If you have lower back pain, you are not alone. Nearly everyone at some point has back pain that interferes with work, routine daily activities, or recreation. Americans spend at least $50 billion each year on low back pain, the most common cause of job-related disability and a leading contributor to missed work. Back pain is the second most common neurological ailment in the United States — only headache is more common.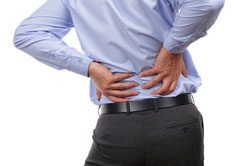 Acute or short-term low back pain generally lasts from a few days to a few weeks. Most acute back pain is mechanical in nature — the result of trauma to the lower back or a disorder such as arthritis. Pain from trauma may be caused by a sports injury, work around the house or in the garden, or a sudden jolt such as a car accident or other stress on spinal bones and tissues. Symptoms may range from muscle ache to shooting or stabbing pain, limited flexibility and/or range of motion, or an inability to stand straight. Occasionally, pain felt in one part of the body may "radiate" from a disorder or injury elsewhere in the body. Some acute pain syndromes can become more serious if left untreated.
Chronic back pain is measured by duration — pain that persists for more than 3 months is considered chronic. It is often progressive and the cause can be difficult to determine.
What structures make up the back?
The back is an intricate structure of bones, muscles, and other tissues that form the posterior part of the body's trunk, from the neck to the pelvis. Starting at the top, the spine has four regions:
the seven cervical or neck vertebrae (labeled C1 - C7),
the 12 thoracic or upper back vertebrae (labeled T1 - T12),
the five lumbar vertebrae (labeled L1 - L5), which we know as the lower back, and
the sacrum and coccyx, a group of bones fused together at the base of the spine.
The lumbar region of the back, where most back pain is felt, supports the weight of the upper body.
What causes lower back pain?
As people age, bone strength and muscle elasticity and tone tend to decrease. The discs begin to lose fluid and flexibility, which decreases their ability to cushion the vertebrae.
Pain can occur when, for example, someone lifts something too heavy or overstretches, causing a sprain, strain, or spasm in one of the muscles or ligaments in the back. If the spine becomes overly strained or compressed, a disc may rupture or bulge outward. This rupture may put pressure on one of the more than 50 nerves rooted to the spinal cord that control body movements and transmit signals from the body to the brain. When these nerve roots become compressed or irritated, back pain results.
Low back pain may reflect nerve or muscle irritation or bone lesions. Most low back pain follows injury or trauma to the back, but pain may also be caused by degenerative conditions such as arthritis or disc disease, osteoporosis or other bone diseases, viral infections, irritation to joints and discs, or congenital abnormalities in the spine. Obesity, smoking, weight gain during pregnancy, stress, poor physical condition, posture inappropriate for the activity being performed, and poor sleeping position also may contribute to low back pain. Additionally, scar tissue created when the injured back heals itself does not have the strength or flexibility of normal tissue. Buildup of scar tissue from repeated injuries eventually weakens the back and can lead to more serious injury.
Occasionally, low back pain may indicate a more serious medical problem. Pain accompanied by fever or loss of bowel or bladder control, pain when coughing, and progressive weakness in the legs may indicate a pinched nerve or other serious condition. People with diabetes may have severe back pain or pain radiating down the leg related to neuropathy. People with these symptoms should contact a doctor immediately to help prevent permanent damage.
Who is most likely to develop low back pain?
Nearly everyone has low back pain sometime. Men and women are equally affected. It occurs most often between ages 30 and 50, due in part to the aging process but also as a result of sedentary life styles with too little (sometimes punctuated by too much) exercise. The risk of experiencing low back pain from disc disease or spinal degeneration increases with age.
What conditions are associated with low back pain?
Conditions that may cause low back pain and require treatment by a physician or other health specialist include:
Bulging disc (also called protruding, herniated, or ruptured disc). The intervertebral discs are under constant pressure. As discs degenerate and weaken, cartilage can bulge or be pushed into the space containing the spinal cord or a nerve root, causing pain. A much more serious complication of a ruptured disc is cauda equina syndrome, which occurs when disc material is pushed into the spinal canal and compresses the bundle of lumbar and sacral nerve roots. Permanent neurological damage may result if this syndrome is left untreated.
Sciatica is a condition in which a herniated or ruptured disc presses on the sciatic nerve, the large nerve that extends down the spinal column to its exit point in the pelvis and carries nerve fibers to the leg. This compression causes shock-like or burning low back pain combined with pain through the buttocks and down one leg to below the knee, occasionally reaching the foot.
Spinal degeneration from disc wear and tear can lead to a narrowing of the spinal canal. A person with spinal degeneration may experience stiffness in the back upon awakening or may feel pain after walking or standing for a long time.
Spinal stenosis related to congenital narrowing of the bony canal predisposes some people to pain related to disc disease.
Osteoporosis is a metabolic bone disease marked by progressive decrease in bone density and strength. Fracture of brittle, porous bones in the spine and hips results when the body fails to produce new bone and/or absorbs too much existing bone. Women are four times more likely than men to develop osteoporosis. Caucasian women of northern European heritage are at the highest risk of developing the condition.
Skeletal irregularities produce strain on the vertebrae and supporting muscles, tendons, ligaments, and tissues supported by spinal column. These irregularities include scoliosis, a curving of the spine to the side; kyphosis, in which the normal curve of the upper back is severely rounded; lordosis, an abnormally accentuated arch in the lower back; back extension, a bending backward of the spine; and back flexion, in which the spine bends forward.
Fibromyalgia is a chronic disorder characterized by widespread musculoskeletal pain, fatigue, and multiple "tender points," particularly in the neck, spine, shoulders, and hips.
Spondylitis refers to chronic back pain and stiffness caused by a severe infection to or inflammation of the spinal joints. Other painful inflammations in the lower back include osteomyelitis (infection in the bones of the spine) and sacroiliitis (inflammation in the sacroiliac joints).
How is back pain treated?
Most low back pain can be treated without surgery. Treatment involves using analgesics, reducing inflammation, restoring proper function and strength to the back, and preventing recurrence of the injury. Most patients with back pain recover without residual functional loss. Patients should contact a doctor if there is not a noticeable reduction in pain and inflammation after 72 hours of self-care.
Although ice and heat (the use of cold and hot compresses) have never been scientifically proven to quickly resolve low back injury, compresses may help reduce pain and inflammation and allow greater mobility for some individuals.
Bed rest — 1–2 days at most. A 1996 Finnish study found that persons who continued their activities without bed rest following onset of low back pain appeared to have better back flexibility than those who rested in bed for a week.
Exercise may be the most effective way to speed recovery from low back pain and help strengthen back and abdominal muscles. Maintaining and building muscle strength is particularly important for persons with skeletal irregularities.
Medications are often used to treat acute and chronic low back pain. Effective pain relief may involve a combination of prescription drugs and over-the-counter remedies.
Over-the-counter analgesics, including nonsteroidal anti-inflammatory drugs (aspirin, naproxen, and ibuprofen), are taken orally to reduce stiffness, swelling, and inflammation and to ease mild to moderate low back pain. Counter-irritants applied topically to the skin as a cream or spray stimulate the nerve endings in the skin to provide feelings of warmth or cold and dull the sense of pain. Topical analgesics can also reduce inflammation and stimulate blood flow. Many of these compounds contain salicylates, the same ingredient found in oral pain medications containing aspirin.
Anticonvulsants — drugs primarily used to treat seizures — may be useful in treating certain types of nerve pain and may also be prescribed with analgesics.
Some antidepressants, particularly tricyclic antidepressants such as amitriptyline and desipramine, have been shown to relieve pain (independent of their effect on depression) and assist with sleep. Antidepressants alter levels of brain chemicals to elevate mood and dull pain signals. Many of the new antidepressants, such as the selective serotonin reuptake inhibitors, are being studied for their effectiveness in pain relief.
Opioids such as codeine, oxycodone, hydrocodone, and morphine are often prescribed to manage severe acute and chronic back pain but should be used only for a short period of time and under a physician's supervision. Side effects can include drowsiness, decreased reaction time, impaired judgment, and potential for addiction. Many specialists are convinced that chronic use of these drugs is detrimental to the back pain patient, adding to depression and even increasing pain.
Epidural Steroid Injection (ESI) is the delivery of powerful anti-inflammatory medicine directly into the space outside of the sac of fluid around your spinal card. This area is called the epidural space.
Spinal manipulation is literally a "hands-on" approach in which professionally licensed specialists (doctors of chiropractic care) use leverage and a series of exercises to adjust spinal structures and restore back mobility.
When back pain does not respond to more conventional approaches, patients may consider the following options:
Acupuncture involves the insertion of needles the width of a human hair along precise points throughout the body. Practitioners believe this process triggers the release of naturally occurring painkilling molecules called peptides and keeps the body's normal flow of energy unblocked.
Biofeedback is used to treat many acute pain problems, most notably back pain and headache. Using a special electronic machine, the patient is trained to become aware of, to follow, and to gain control over certain bodily functions, including muscle tension, heart rate, and skin temperature (by controlling local blood flow patterns).
Interventional therapy can ease chronic pain by blocking nerve conduction between specific areas of the body and the brain. Approaches range from injections of local anesthetics, steroids, or narcotics into affected soft tissues, joints, or nerve roots to more complex nerve blocks and spinal cord stimulation. Traction involves the use of weights to apply constant or intermittent force to gradually "pull" the skeletal structure into better alignment. Traction is not recommended for treating acute low back symptoms.
Transcutaneous electrical nerve stimulation (TENS) is administered by a battery-powered device that sends mild electric pulses along nerve fibers to block pain signals to the brain.
Ultrasound is a noninvasive therapy used to warm the body's internal tissues, which causes muscles to relax. Sound waves pass through the skin and into the injured muscles and other soft tissues. Minimally invasive outpatient treatments to seal fractures of the vertebrae caused by osteoporosis include vertebroplasty and kyphoplasty. Vertebroplasty uses three-dimensional imaging to help a doctor guide a fine needle into the vertebral body In the most serious cases, when the condition does not respond to other therapies, surgery may relieve pain caused by back problems or serious musculoskeletal injuries.
Discectomy is one of the more common ways to remove pressure on a nerve root from a bulging disc or bone spur. During the procedure the surgeon takes out a small piece of the lamina (the arched bony roof of the spinal canal) to remove the obstruction below.
Foraminotomy is an operation that "cleans out" or enlarges the bony hole (foramen) where a nerve root exits the spinal canal.
IntraDiscal Electrothermal Therapy (IDET) uses thermal energy to treat pain resulting from a cracked or bulging spinal disc.
Nucleoplasty, also called plasma disc decompression (PDD), uses radiofrequency energy to treat patients with low back pain from contained, or mildly herniated, discs.
Radiofrequency lesioning is a procedure using electrical impulses to interrupt nerve conduction (including the conduction of pain signals) for 6 to12 months.
Spinal fusion is used to strengthen the spine and prevent painful movements.
Spinal laminectomy (also known as spinal decompression) involves the removal of the lamina (usually both sides) to increase the size of the spinal canal and relieve pressure on the spinal cord and nerve roots.
This site is not designed to and does not provide medical advice, professional diagnosis, opinion, treatment or services to you or to any other individual. Through this site and linkages to other sites, California Health Plans provides general information for educational purposes only. The information provided in this site, or through linkages to other sites, is not a substitute for medical or professional care, and you should not use the information in place of a visit, call consultation or the advice of your physician or other healthcare provider. California Health Plans is not liable or responsible for any advice, course of treatment, diagnosis or any other information, services or product you obtain through this site.