Have a question about Blue Shield? We're here with answers.
Call us at 1-866-567-8222
Blue Shield of California has over 60 years of operations in California and has become one of the largest health insurance carriers in the state. There are over 3 million members of Blue Shield of California. In February, 2009 the membership of Blue Shield was broken down as 1.2M HMO, 1.56M PPO, TRICARE .46M, and 160K other members. Blue Shield is a California not-for-profit mutual benefit corporation and employs nearly 5,000 employees.
Blue Shield recently received an "Excellent" accreditation status for the best health plans in the U.S. from the National Committee for Quality Assurance (NCQA). Blue Shield has received many awards for leading the health care industry with innovative programs and outstanding health insurance services. The mission of Blue Shield of California is "To ensure all Californians have access to high-quality health care at a reasonable price."
Blue Shield features health coverage plans for individuals & families, Medicare eligible health plans, Health Savings Account eligible plans, employer sponsored plans, and health family programs. It is easy to find a Blue Shield plan that meets your requirements.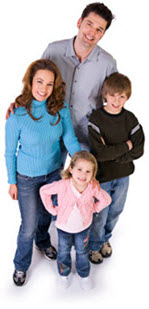 Blue Shield Health Insurance Plans
Our website allows you to quickly compare Blue Shield health plans and select one that meets your coverage requirements and budget. We have summarized the most popular Blue Shield health plans for you.
Shield Secure Plus (PPO) plans offer families and individuals outstanding benefits prior to meeting the deductible. You can select a plan deductibles that meets your requirements.
Shield Secure (PPO) plans have the same benefits as the Shield Secure Plus plans however the premiums are more affordable except when you need to access coverage.
Shield Saver (PPO, HSA Compatible) are plans that offer you low out-of-pocket costs for major medical events and have some the lowest monthly rates offered by Blue Shield.
Shield Wise (PPO) plans provide two physician office visits annually at a fixed copayment before meeting the annual deductible.
Blue Shield of California has a very extensive provider and hospital network. As of April 2009, the HMO plan type of Blue Shield had 32,000 physicians and 300 hospitals in the network. The PPO plan type had 65,000 physicians and 350 hospitals in the network. The individual Medicare HMO network had 13,100 physicians and 135 hospitals. The total pharmacy network in California for Blue Shield as of December 2009 was well over 5,000 pharmacies.
Please call us at 1-866-657-8222 to discuss your health insurance requirements or get a free Blue Shield insurance quote from Blue Shield of California. California Health Plans is one of the top agencies for Blue Shield and known for providing excellent customer service from knowledgeable licensed insurance agents.